WELCOME TO AQUATECH
Aquatech are a Water Treatment Specialist with over 25 years' experience within the industry. Utilising the very latest water treatment technology, Aquatech are able to offer a market leading, competitive and highly professional service. Combined with excellent customer service and a 24 hour helpdesk you can always rely on Aquatech to provide excellent support and consulting management that will meet your requirements.








WATER TREATMENT
The main objective of any form of Water Treatment is to reduce, remove and minimize undesirable characteristics within the water, conditioning it suitable for its' intended purpose.
Furthermore with the addition of desirable substances, which when added to a closed system, such as corrosion inhibitors or sequestration agents can produce a more stable water allowing it to be more efficient and fit for purpose.
Only a complete and thorough regime with investment will allow for real confidence that the services / system operates to its maximum potential.
Reasonably simply analysis of the water supply can be carried out to ensure that hygiene, legal and duty of care obligations are met. These analyses are carried out by our highly skilled personnel and where required samples will be submitted to a UKAS approved independent laboratory for pinpoint accuracy and the most effective treatment programme.
Please do not hesitate to contact us for further help or assistance.
WATER HYGIENE
Legionella bacteria, caause of the highly documented Legionnaires Disease, can grow in any area or location where water is present.
Legionella control compliance is covered by the HSG 274 and in the 'Approved Code of Practice L8 2013 – The Control of Legionella Bacteria in water system (ACOP L8).
Failure to comply with the guidelines could be used in criminal proceedings as evidence of a companies negligence.
Our services include:
ACOP L8 Legionella Risk Assesment/ Monitoring
Tank Refurbishment (Water Bylow 30) & Replacement
Water System Cleaning – Disinfection – Acid Descaling
Water Hygiene Consultancy
On-Site Training
CHEMICAL CLEANING
Pre Commission Cleaning
Any investment in ensuring that a water system is free of unwanted matter and not damaging to the equipment it is used in before its first use will pay dividends over time. And, by setting out a proper regime for ongoing servicing and maintenance, alongside our engineers, your system will deliver the level of safe, reliable performance you need. All this can be achieved cost-effectively where pre-commissioning is taken seriously. After investing in a water system it makes sense to invest in its future.
Aquatech's pre-commissioning cleaning work is all carried out to the exacting standard of BSRIA application notes, the industry recognised best practice control.
Aquatech's Pre-commissioning services provides the foundation on which your system's future reliability and safety is built.
Pre-Commission cleaning and commissioning the foundation on which a safe, effective and compliant water system is achieved.
Pre-Commission cleaning is an industry standard requirement for a new closed water installation. All Aquatech's work is carried out under the latest BSRIA guidelines.

Remedial Cleaning
Any and all remedial cleaning is performed in order to restore a system that was previously fouled with scale, corrosion, general dirt / debris or microbiological contamination to a more stable and efficient condition.

System Maintenance
Aquatech can manage on-going system maintenance. Services include regular testing and analysis. This service can greatly increase efficiency and operational control.
LEGIONELLA RISK ASSESSMENT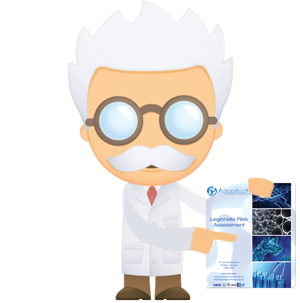 The Approved Code of Practice L8 2013 'The Control of Legionella Bacteria in Water Systems' (ACOP L8) applies to all businesses in the UK who store or use water in a manner that is likely to create an aerosol, irrespective of the industry sector to which they belong.
Failure to comply with any provision of any Approved Code of Practice is not in itself an offence but any be used in criminal proceedings as evidence of failure to comply with appropriate regulations.
The requirements for a business under ACOP L8 are:
• to identify and assess all sources of risk: ( carried out in strict compliance to BS 8580:2010 – Water Quality Risk assessments for Legionella control-Code of Practice)
• to prepare a written scheme;
• to appoint a responsible person;
• to implement and manage the scheme;
• to keep records.
Aquatech's Water Hygiene Service has been specifically designed to help you meet all your individual requirements. Our Risk Assessors are competent qualified engineers, with an expert knowledge of domestic water systems. They have all the required knowledge and skills to identify the conditions that can lead to an outbreak of Legionella.
CONTACT
Please feel free to get in touch with us today should you have any enquiries.
Either by completing the direct enquiry form, and a member of our team will respond within 24 hours.
Alternatively please contact a member of the team on the telephone number listed above.